Adapted from the famous picture book, the movie "Shrek" has set off a wave of monster lovers upon its release. The main idea of the Shrek is to mock all the classic fairy tales, breaking people's imagination of the beautiful prince and princess in the fairy tale. In this movie, the main villain is Lord Farquaad. He represents the traditional stereotype that one must have a princess wife in order to become a king in fairy tale world.
About Lord Farquaad
Lord Farquaad is an arrogant, power-hungry, and tyrannical ruler of Duloc. He is a physically short character but has a towering ego. On the one hand, Farquaad is shown to be self-centered, and intolerant of fairytale creatures that don't fit his idealized image of society. On the other hand, Farquaad is a cowardly man who wants to marry princess Fiona but doesn't want to risk his life for it. With his obvious ruthlessness, Lord Farquaad is selected as one of the best anime villains that have a value in cosplay.
Lord Farquaad Costume and DIY
Dressing up as a fictional character from a well-known movie or book series is a common practice for Halloween, and Lord Farquaad's distinctive appearance makes him a recognizable and easy-to-replicate cosplay costume option. He is depicted as being very short in stature, with a height that only comes up to Shrek's waist. He has a round face with a prominent chin, small nose, and thin lips. His hair is slicked back and he wears a gold crown or red hat on his head. Lord Farquaad is always seen wearing a red tunic with gold epaulets, black pants, and black boots. He also wears a black belt with a gold buckle and a red cape.
If you're struggling to find a detailed tutorial on how to make your own Lord Farquaad outfit, then you come to a right place. Below you will find a step-by-step instructions on how to complete a Lord Farquaad costume, and you can use this DIY work for any occasion.
1.
Renaissance Red Hat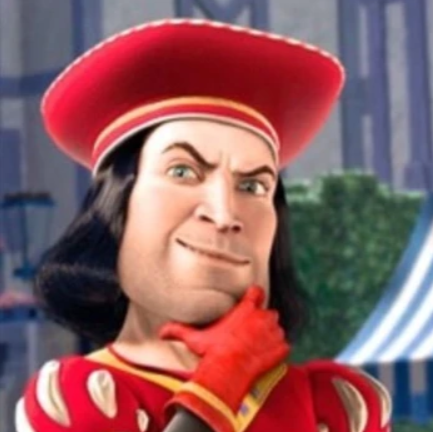 Source from: https://shrek.fandom.com/wiki/Lord_Farquaad
This is the red hat that goes with Lord Farquaad costume, and the shape is similar to a combination of a Renaissance hat and a modern beret. He thinks this hat with a little height can make himself look more handsome. You can choose light and soft red fabrics such as cotton or wool. Then you need to prepare a needle and thread, scissors, chalk and a hat template with the pattern drawn on it. The top and bottom edges of this hat are a circle of gold line patterns that you can also sew on with ribbon. The following are the steps for cutting and sewing:
Cut out your beret pattern using scissors. You should have two identical beret pieces.
Place the two beret pieces together, with the right sides of the fabric facing each other. Pin the pieces together around the edge of the circle.
Sew around the edge of the circle, leaving a small gap for turning the beret right-side-out.
Turn the beret right-side-out through the gap you left in the previous step.
Hand-sew the gap closed using a needle and thread.
2.
Black Short Wig
This Lord Farquaad black cosplay wig replicate the character's distinctive appearance from the animated movie Shrek. You can also search for the keyword "Pageboy Cut Hair" to find the right wig. Pageboy hair is a versatile hairstyle that can be dressed up or down, making it a popular choice for a Lord Farquaad cosplay.
3.
Lord Farquaad Cosplay Cape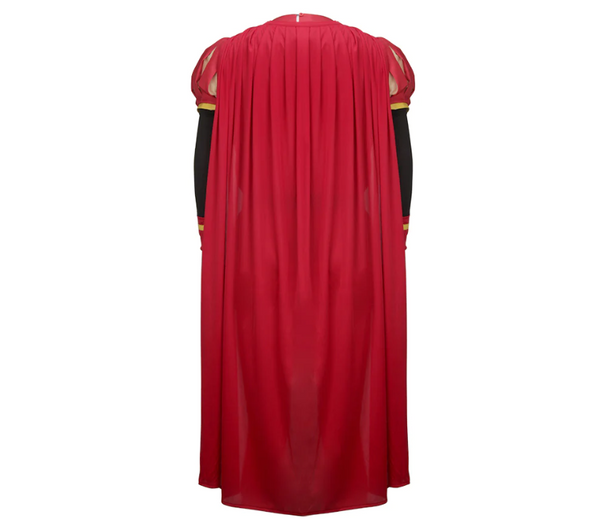 This red cape that flows behind him as he walks symbolizes the image of a prince in many fairy tales. This cape is very simple to make, you need to prepare the velvet, measuring tape and sewing machine.
Begin by measuring your height from the top of your shoulder to the floor. This will be the length of your cape. The width of the fabric should be twice the width of your shoulders. Then Sew the two long edges of the fabric together, leaving the top edge open. If you want to add a lining to your cape, cut a piece of lining fabric to the same length and width as the velvet fabric. Finally, hand-sew the gap closed using a needle and thread.
4.
King's Red Tunic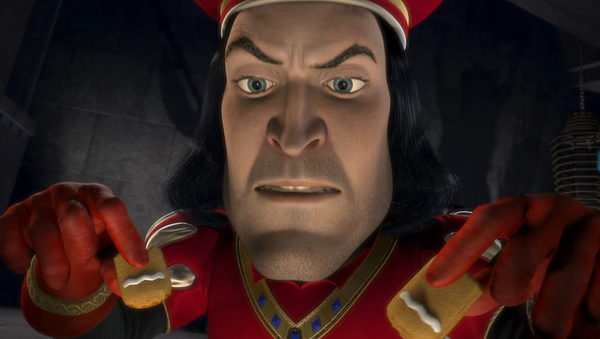 Source from: https://shrek.fandom.com/wiki/Lord_Farquaad
The main thing in Lord Farquaad red royal outfit is this knee-length tunic. The neckline of this red top is decorated with blue stones on the V shape, which is quite regal and luxurious. If you can't do 3D printing, you can buy square blue rhinestones from the store. The following are the steps for making a simple knee-length corset tunic.
Take your measurements: Measure the circumference of your bust, waist, and hips, and the length from your shoulder to your mid-thigh.
Cut the fabric: Cut two rectangles of fabric that are the width of your bust measurement plus 2 inches and the length of your desired tunic length plus 1 inch.
Sew the sides: Pin the two rectangles together, with the right sides facing each other.
Finish the armholes: Fold the top edges of the armholes under 1/4 inch and press them with an iron.
Hem the Lantern sleeves: To create the lantern effect, gather the fabric between the stitches on the cuff. Pull gently on the bobbin threads to create the gathers, and distribute them evenly around the cuff.
By using these tips and techniques, you can create a best Lord Farquaad top that flatter different body types.
5.
Long Sleeve Black Bodysuit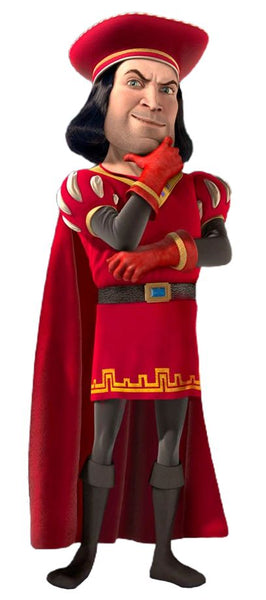 Source from: https://shrek.fandom.com/wiki/Lord_Farquaad
As a conservative prince, Lord Farquaad wears a black bodysuit underneath his tunic. bodysuit top is generally made of cotton, containing a certain amount of spandex to maintain the elasticity of the clothes, similar to the yoga suit. You can buy this bodysuit directly on Amazon, there are many merchants have the same styles. When you pick your size, you need to pay attention to the sleeve length and leg length to avoid getting a bodysuit that is too short or too long.
6.
Lord Farquaad Belt
Lord Farquaad decorates his waist with a black leather belt with a gold buckle.
If you want to restore a his belt, you will first need to cut the leather to a length that fits your waist. Then secure the belt buckle in the marked position by pinning it in place or using a sewing machine or hand stitching. The center of the buckle can be made with the blue rhinestones you purchased for the top. Of course, you can also use gold and blue paint to paint the buckle.
7.
Lord Farquaad Gloves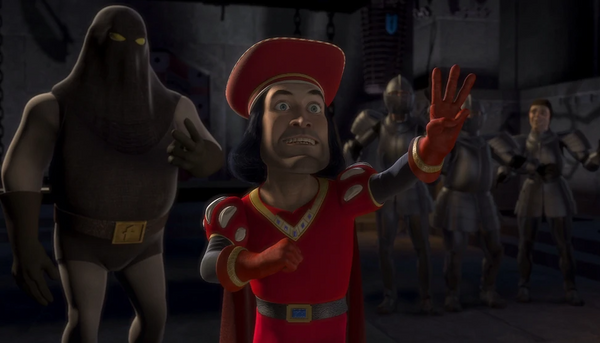 Source from: https://shrek.fandom.com/wiki/Lord_Farquaad
Making gloves can be a bit tricky, especially if you are using a thick or slippery fabric. You will need a lot of practice and patience to create a beautiful and functional pair of gloves. So we suggest you buy the stock red gloves to complete your Lord Farquaad cosplay, after all, the price is not too expensive. You can buy a pair of gloves with the same fabric as the cape.
8.
Black Leather Boots
Farquaad is short in stature, so he wears a pair of black boots appear taller. You can search for equestrian boots or parade soldier boots to find shoes that match Lord Farquaad's cosplay. This would be a pair of tall black leather boots with roughly 10 cm of turned out leather at the top.
In Conclusion
These are the eight steps of how to DIY a Lord Farquaad costume, you can adjust the materials and details according to your actual situation. And there you have it - a simple and stylish Farquaad cosplay outfit that you can wear with pride!