Description
Product Details
Deadpool 2 Deadpool Suit Oufit Halloween costume for males females
Deadpool 2

Character :

Deadpool

Including : jumpsuit ,mask ,glove ,holster ,gaiter,gaiter ,gaiter ,gaiter, epaulet ,waist pocket, belt gaiter

Fabric: Red craft deerskin velvet, black PU leather, black composite leather, silver composite leather, black spandex leather, black pineapple grid, white mesh, black matte PU leather, black fur, black yarn card, brown composite skin
The shoulders are treated with stuffed fake muscles, which has a high degree of restoration.
The waist is made of metal molds, and the original movie is highly restored
The fabric is made of dark red breathable elastic fabric, which highly restores the original color of the movie character.
High-quality fabric, breathable and comfortable, good texture of deerskin velvet.
Fine workmanship, clear lines and excellent workmanship.
Silver decoration on the chest, hand-cut and made, full of design sense.
High-quality leather, metal waist buckle, the color and texture are restored at the same time.
The cuboid belt bag is made of fine PU leather and exquisitely cut and spliced into a simple and practical.
A variety of hand materials are spliced and highly restored.
The headgear is made of high-quality leather with exquisite workmanship.
The back splicing and threading process, the car line is neat, the stitching is fine, and the left and right symmetrical, highlighting the quality.
Informations
If you feel heroic enough to challenge yourself to be your own deadpool, there is no other clothing for you. This "

deadpool

2" wade Wilson cosplay costume includes a full body suit, full hood and accessories, including a variety of leather cases and seat belts. Made of custom elastic spandex and black trim, you can't help but marvel at its similarity and quality.
The head mask is detachable and equipped with a white mesh eye mask, which can keenly observe any passing villain. In addition to the black shoulder pads, which are attached to the body armor, the suit comes with a variety of leather covers and seat belts.
In particular, a black back strap carries props, so you can add your own Cosplay props if you want. All leather cases have rivet details and adjustable straps for added comfort and stability. What's more, the calf leather cover can remove the leg safety belt. Leg seatbelts are equipped with easy-to-use clips and accessories such as leather cases and brown leather bags.
The belt is made of high-quality contrasting light brown leather with a matching brown handbag and a classic dead man logo printed on the buckle. The suit also comes with black Wrist Gloves and mesh fingertips. You'll be impressed with every aspect of this cosplay costume.
Size Chart
If you have any doubts about sizing or other shopping issues, please feel free to contact us by email or Tidio, and we will definitely try our best to help you out.
Asian Size Chart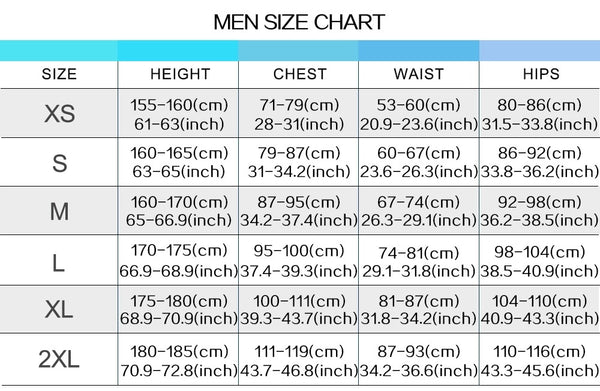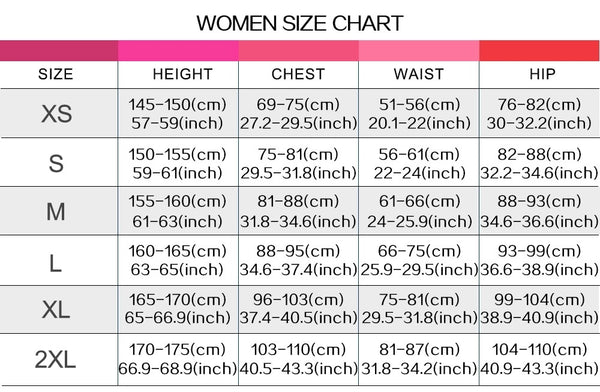 Here we list measurement guide for both gender. If you are doing Cross Cosplay. Make sure you send us right measurements. Have fun!
Delivery Policy
Total Delivery Date = Processing Date (5-15 days) + Shipping Date (4-10 days, depends on the Delivery Method you prefer to use on your order)
Shipping Policies Item
1.If you are one of these countries below, there are two shipping policies:
Australia, Austria, Belarus, Belgium, Bulgaria, Canada, Croatia, Czechia, Denmark, Estonia, France, Georgia, Germany, Gibraltar, Greece, Hong Kong SAR, Hungary, Indonesia, Ireland, Italy, Japan, Laos, Latvia, Liechtenstein, Lithuania, Luxembourg, Macao SAR, Malaysia, Mayotte, Moldova, Myanmar (Burma), Netherlands, New Zealand, Norway, Philippines, Portugal, Romania, Serbia, Singapore, Slovakia, Slovenia, South Korea, Spain, Sweden, Switzerland, Taiwan, Thailand, United Kingdom, United States, Vietnam, Cambodia, Mongolia, Malta, Réunion
(1).Expited (5-10 Business Days)      Shipping price : $29.90
(2).Free Shipping(7-20 Business Days)   Shipping price : $0
2.Rest of world(countries not included in the above)
Expited (5-10 Business Days)  Shipping price : $29.90
Processing Time
Most Orders(Except the custom-made costumes) will be Processing in 5-15 business days.
During Halloween time, the time maybe around 20 working days due to the heavy workload that time.
Contact us
Email: support@crazecosplay.com
Contact us
Contact us
Email: support@crazecosplay.com
Address:
Room 1714, Floor 17,Building 2,XinKai Plaza 
No. 22, Yongsheng West Road, Guicheng Street, Nanhai District, Foshan
Guangdong  525800
China
Payment & Security
Your payment information is processed securely. We do not store credit card details nor have access to your credit card information.
We found other products you might like!